Recursos
South-South Cooperation between Africa and Latin America: research outputs from Ecuador
Documents | Lessons from Ecuador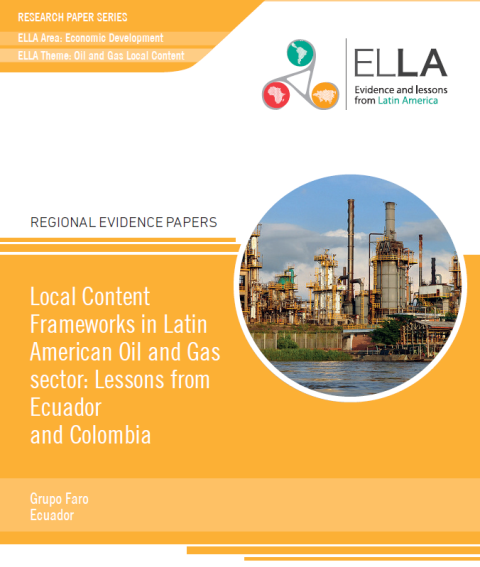 ELLA -Evidence and Lessons from Latin America- aims to transfer lessons and good practices between African and Latin American Think Tanks. We introduce a document written by Juan José Herrera, Marcela Morales and Sebastián Jarrín from Grupo Faro, a Think Tank from Ecuador. The paper provides an analysis of local content frameworks and their outcomes in seven oil and gas producing countries in Latin America.  
During recent decades, debate around non-renewable resources has mainly focused on finding sustainable and alternative ways to enhance development beyond the revenues generated by this sector and to avoid the resource curse. When it comes to extractive industries, particularly the oil and gas sector, these concerns are of major relevance due to the importance of this sector in many economies. For policy makers a key challenge is to find equilibrium between the short-term benefits of natural resource extraction and long-term requirements for achieving sustainable growth. Against a backdrop of contradictions and hard choices, local content is considered
as an attractive solution to this dilemma. 
Based on a review of regional experiences, the research aims to identify which types
of local content framework produce more positive outcomes in terms of local employment, national industry participation and skills development. In order to do so, a regional catalogue of local content frameworks has been developed with the aim of helping fill the current knowledge gap in this regard. This study also explores the factors that can influence the outcomes of local content by drawing on the experiences of Ecuador and Colombia and using evidence gathered through interviews and meetings with representatives from the public and private sectors, as well as academics and other experts in this field.